Former Kiambu Governor Waititu has been tasked with explaining his source of wealth in court as the Ethics and Anti-Corruption Commission (EACC) seeks to recover his Ksh 1.9 billion wealth , considered the proceeds of crime.
In his defence, the ousted governor told the court he was worth more than the EACC claimed, calling the move a "judicial persecution".
According to Waititu, he bought his first truck after four years as an accountant at the Ministry of Finance in 1990 and started supplying building materials with his wife Susan Wangari.
Ferdinand Waititu, former governor of Kiambu, and his wife, Susan Ndung'u, at a rally in 2018
Case
The politician who quit his job in 1993 owned 10 trucks in 1998 and won contracts worth millions of shillings with Nairobi City Council (now Nairobi County) for collection until 2011.
Waititu says he decided to register several companies between 1999 and 2011, including Dosoil Enterprises, Ndung'u Waititu Ltd, Bulk Refuse Removal, Bins Management Ltd and Saika Two Estate Developers, which he used to acquire other properties.
"In 2011, we acquired 22 acres which we subdivided into 311 parcels and sold. I had a lot of wealth even before I was elected MP for Kabete, including gas stations, hardware stores and beauty salons, land holdings and several fleets of transport trucks," Waititu explained.
He built two gas stations in Njiru Mall and Kayole Junction while his wife opened a hardware store and a beauty salon for wholesale goods.
While serving as governor of Kiambu, Waititu says he continued his activities with his wife, who collected over Ksh 300 million every month.
After two years as Kiambu Governor, he had acquired two properties at a cumulative cost of Ksh 580 million, including a building housing a local bank and the Delta Hotel in Nairobi's CBD in 2017 and 2018 respectively, through loans supplemented by her savings. .
"I can give sufficient explanation of all my properties acquired during the period when I was a deputy and governor. The EACC was just in a hurry to file a complaint without giving me the opportunity to explain myself.
Other assets belonging to the former Governor are Solar House in Nairobi CBD, a building along Biashara Street, a house in Runda Estate, seven vehicles and a tractor, cash in bank accounts and several plots of land in the Nairobi, Kiambu, Machakos and Kajiado counties. .
According to the EACC, Waititu misappropriated funds through fictitious and fraudulent supply contracts where he concealed his private interests in tenders awarded to companies hired to provide services to the county government.
The agency headed by Twalib Mbarak claims that the only legitimate wealth for the period he was MP and governor was Ksh 160 million, which includes a salary of Ksh 29.5 million, rental income – 81 million Ksh and bank loans totaling Ksh 44 million.
"Investigations have established that Ferdinand Ndugu Waititu Babayao abused his position of trust as MP – Kabete Constituency and later as Governor – Kiambu County, for personal gain by engaging in transactions contrary to the public interest and amassing wealth disproportionate to its known legitimate sources of income," the EACC said.
Waititu recently lost the UDA primaries in a bid to take another swipe at Kiambu's governorship in the August 9 polls.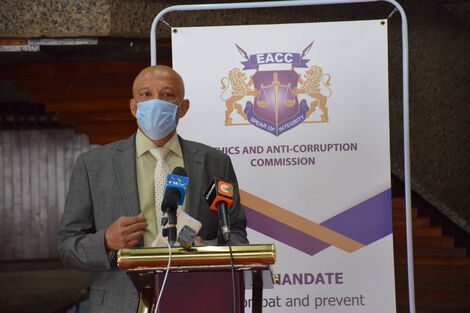 EACC CEO Twalib Mbarak after presenting a check to the Kenya Covid-19 Fund on April 28, 2020.
Twitter
abuse