I'm back on Harmony of the Seas for a Thanksgiving cruise and our first RoyalCaribbeanBlog.com group cruise since closing.
Not only is this our first time returning to Harmony of the Seas, but it's my first time trying Star Class. Star Class is the next level of Royal Caribbean's Suite Class offerings, and I'm excited to try everything out.
Harmony sails on a 7-night Eastern Caribbean cruise from Port Canaveral and will visit St. Kitts, St. Thomas and Perfect Day at CocoCay.
We stayed at the Country Inn and Suites last night which was a good hotel for the night. They offer a shuttle to the cruise port, but we had our own car so we drove.
In the weeks leading up to the cruise, our Genie contacted us by email with an introduction and the possibility of forwarding various requests. We were able to book specialty restaurants, organize food and drinks in our suite upon arrival, and even booked children's times at Adventure Ocean. Before the cruise, I was impressed with the level of service we received before we even stepped on board.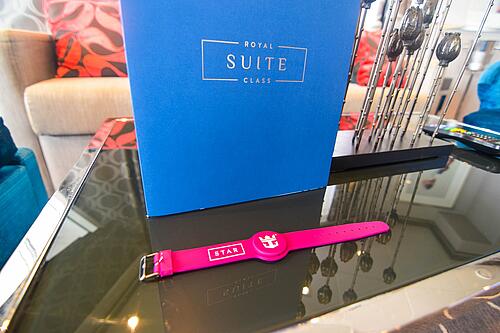 We booked Star Class this time around because when we booked many years ago the price was reasonable. Prices can really run the gamut for the Star Class, but I found this navigation to be a steal.
Our Genie told us to arrive a little earlier than our boarding time because our children had to be tested at the terminal, as they are not vaccinated.
There is a special check-in area at Port Canaveral for Star Class customers. Instead of handing your luggage to the porters and delivering it later to your room, the bags are immediately brought to your cabin.
The tests at the terminal went well and took approximately 45 minutes to obtain the results. This is the last time we have to do a test at the terminal since our children will be fully vaccinated before our next departure.
After the test results arrived via email, we completed the check-in process and our genius, Berty, met us in the terminal.
Our cabins weren't quite ready yet, so we decided to take the kids on the boardwalk to start exploring.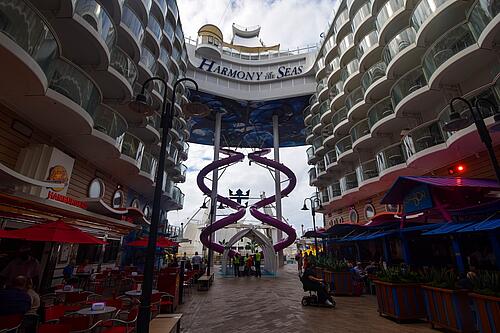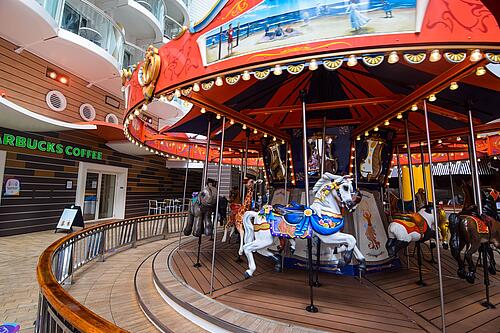 The carousel wasn't working yet, so it was up to the Windjammer for lunch. They had a wide choice of food including lobster tails.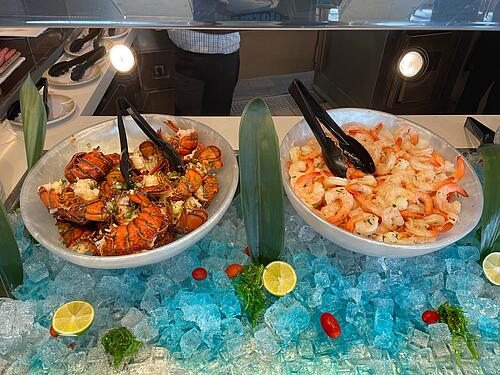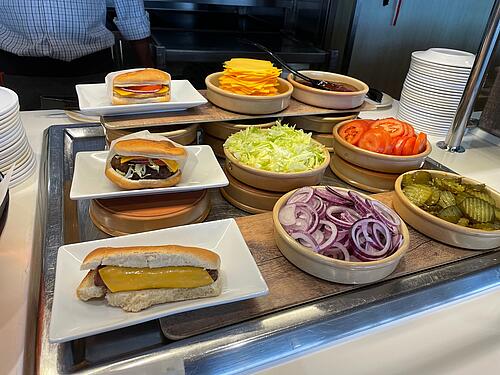 I got the message from Berty that our room was ready, so we went up to the cabin. The Genie can send you a message through the WhatsApp application.
We have a two bedroom AquaTheater suite for this navigation, which is on deck 9.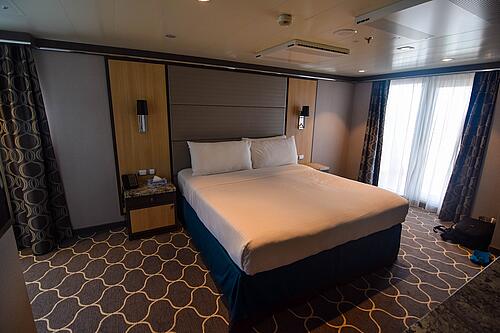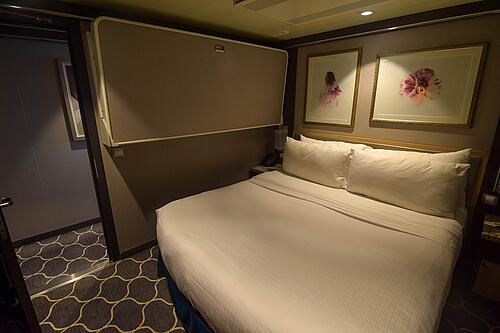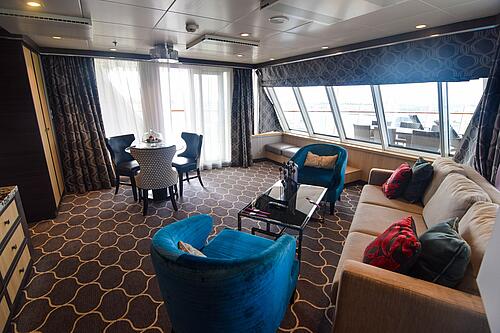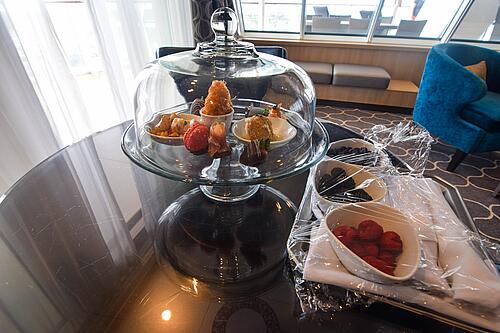 The AquaTheater Suite is located at the very rear of the ship and offers fantastic views of the AquaTheater, the boardwalk and the ocean.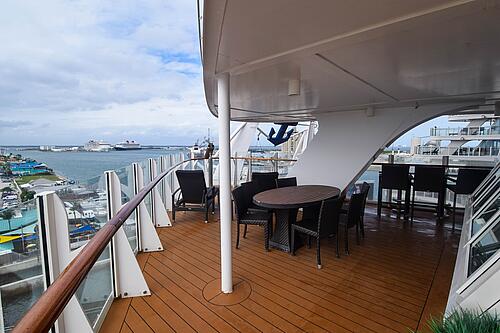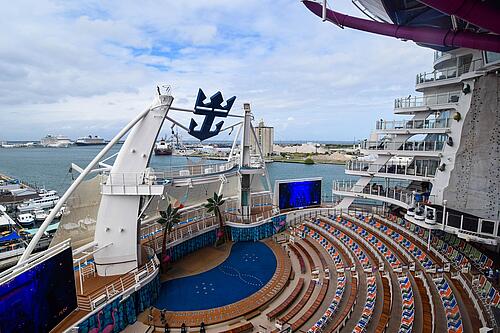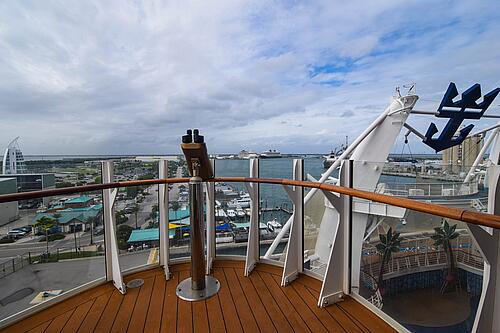 There are two bedrooms, as well as a beautiful living room. It's not the ship's largest cabin, but the wrap-around balcony is massive.
We did a bit of exploring in the afternoon, starting at Central Park and then working our way down to the Royal Parkway.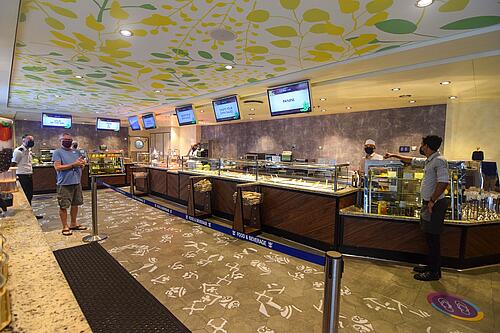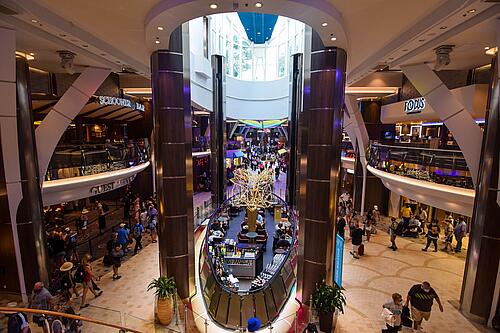 Of course, we ended our gathering exercise by going through most of the steps in the application and then visiting our gathering station.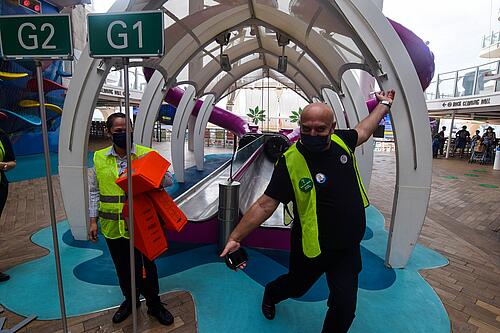 While Berty had registered the children for time slots in Adventure Ocean, we still had to register them.
Registration took place in what was once the open children's playground. Royal Caribbean has removed the toys due to Covid protocols, and this is now where staff meet with you to register children.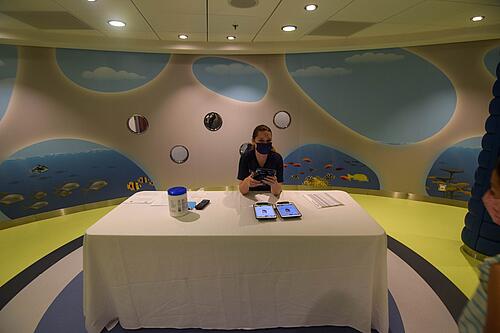 We had our first meeting of the cruise in Boleros to celebrate the start of navigation.
There are approximately 112 friends sailing with us on this group cruise, and we have a few special events planned throughout the cruise.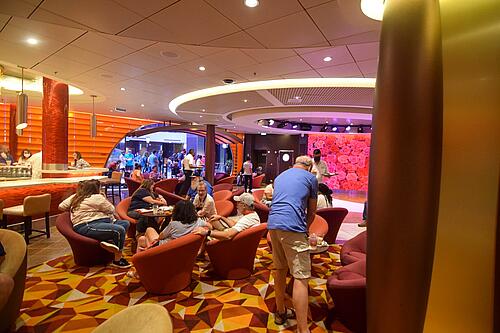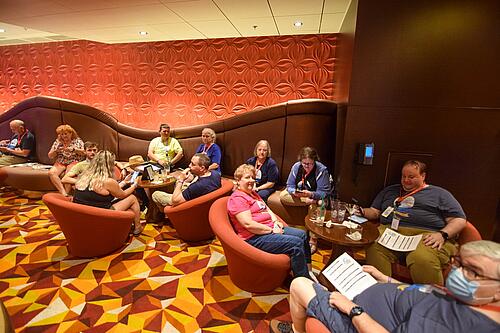 Harmony of the Seas left around 5:30 p.m. There were a few other ships, so we left last.
Even though it was cloudy enough to block out the sunset, the weather couldn't have been more comfortable. Temperatures in the mid-1970s, low humidity and a brisk breeze.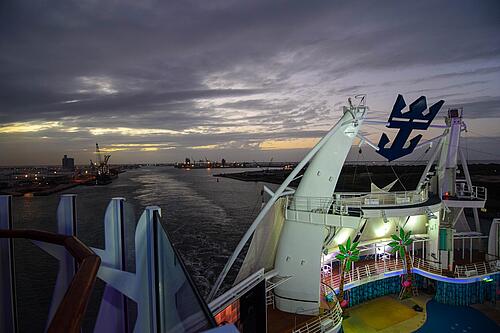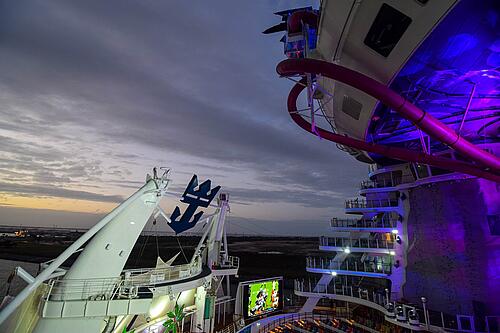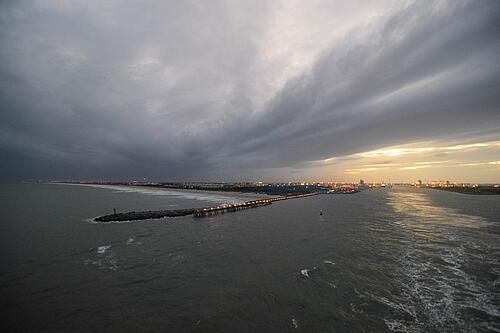 Usually I don't get carried away in the sail, but I had to go to our balcony to watch the sail because of the amazing view from our balcony.
Our kids had room service for dinner: pizza and steak. Another advantage of Star Class is that you can order menus from specialty restaurants and have them delivered to your room.
For my kids this is perfect as they can dine casually and then be ready for Adventure Ocean later.
When evening came, it was time to shower, change, and get ready for dinner.
We dropped the kids off at Adventure Ocean and then headed to Sabor for our first dinner on board.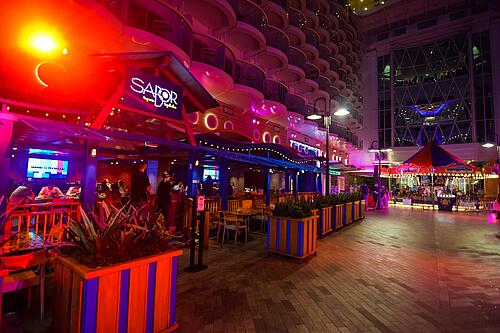 Sabor has been one of my favorite restaurants on a Royal Caribbean ship since it started years ago.
As we were seated, guacamole and salsa were served. The salsa was as good as I remembered it, but unfortunately the guacamole was a bit too runny.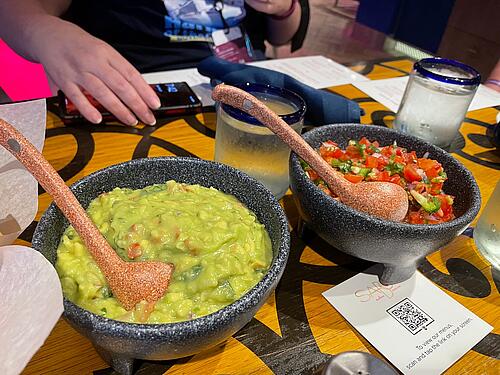 The ceviche appetizer and the cohiba tacos were very good and I enjoyed being back at Sabor once again.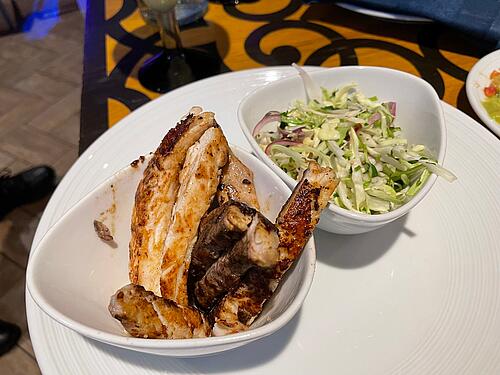 After dinner we headed to the Boot & Bonnet pub to enjoy live music with our evening drinks.
Tomorrow is a day at sea.
Stray observations
Yes, check-in times are important when you arrive at the cruise terminal.
I heard that there were about 4,500 guests aboard that sail. Waiting to check with customer relations after our browsing.
As soon as we left Port Canaveral there was quite a bit of movement in the ocean. Enough movement to stumble a bit when walking every now and then. Probably the rockiest I have experienced since the cruises restarted.
The evening performance of Big Daddy's Hideaway Heist in the AquaTheater has been canceled due to movement in the ocean.